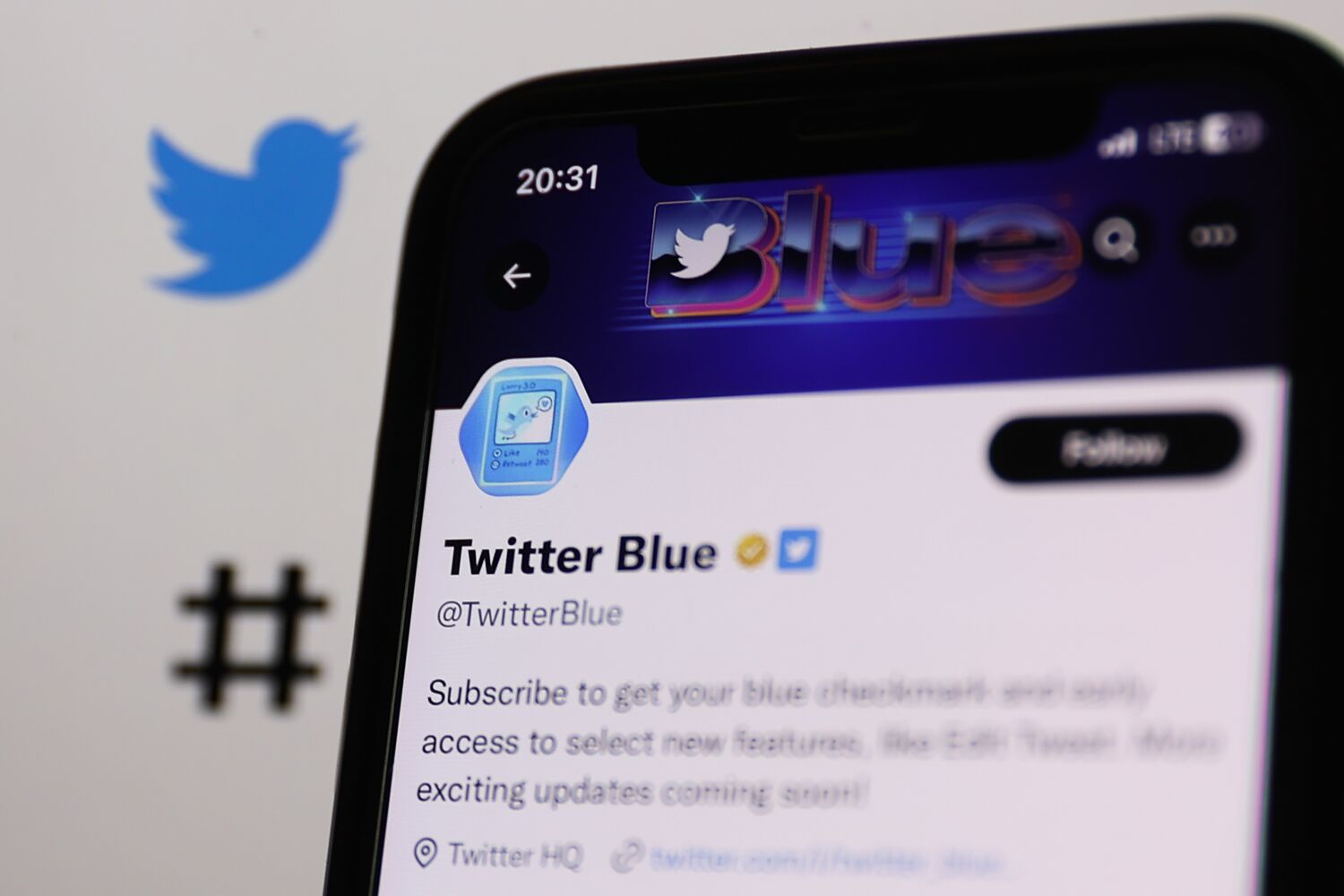 Twitter's blue check marks have long been a status symbol of sorts: They've adorned the accounts of those who are famous or infamous, politician or influencer. Most important, they verified that the people behind those accounts are who they say they are.
But with hours to go before Twitter planned to take away these verification check marks en masse on Saturday — and hand them out only to those who pay $8 a month or $84 a year for a Twitter Blue subscription — entertainers, pro athletes and content producers appeared to be in no rush to sign up, with some emphatically against it and others taking a wait-and-see approach.
Twitter's announcement on the change was met with derision from several blue-check-verified users.
Lakers star LeBron James and NFL quarterback Patrick Mahomes both tweeted Friday morning that they would not subscribe.
"Welp guess my blue will be gone soon cause if you know me I ain't paying the 5," tweeted James.
"Some users on Twitter were starting to confuse me for the type of person who'd pay $8 a month to feel special. It was embarrassing," tweeted TV writer and comedian Mike Drucker.
While celebrities have already been trickling away from the platform or decreasing their activity in recent years, it's likely the paid verification change will accelerate the process.
Media and entertainment professionals who work with celebrities on their social media presences expressed reluctance to pay to have their companies or clients verified, but were wary about discussing the matter publicly, citing Chief Executive Elon Musk's history of retaliating against critics, including Twitter's business partners. (When a number of major advertisers paused their spending in November over concerns about hate speech and other issues, Musk threatened a "thermonuclear name and shame.")
One Los Angeles media executive whose portfolio includes celebrity and entertainment brands cited reservations about the "optics of getting a blue check," referring to the way Musk's culture-war antics have polarized sentiment around Twitter.
The executive, who did not have her company's approval to speak publicly, also expressed concern with the lack of ability to talk to any support staff at Twitter about the change.
Another source who frequently confers with celebrities and media companies on social strategy reported hearing "from a bunch of talent teams that they feel like they're being extorted and they're not doing it."
Musk also announced that, starting April 15, only accounts subscribing to Twitter Blue will be eligible to be promoted in users' For You recommendations. Voting in polls will also only be available to paid users, he said. Musk later added that the For You will also include tweets from followed accounts, including unverified ones.
But many questions remain unanswered about the upcoming changes, such as how retweets will be handled in algorithmic promotion and how the company will prevent imposter accounts from proliferating.
Twitter's press email responded to a request for comment with an autoreply of a poop emoji.
A few celebrities have publicly declared their intentions not to pay for Twitter Blue or expressed concerns about potential impersonation.
The "Star Trek" actor William Shatner, who has 2.5 million followers and is a longtime active Twitter user, said in a tweet that "blue were guardrails to legitimacy; not meaningless status symbols."
Jason Alexander from "Seinfeld" tweeted Monday he would leave Twitter if his check mark were removed, since without it, "anyone can allege to be me," he wrote.
In an example of impersonation still happening, Monica Lewinsky tweeted about a user with the handle "monicalewinskai" who was verified with a blue check mark as Monica Lewinsky.
Karl Urban from Amazon Prime's "The Boys" said he was "opposed to spending money on social media" and warned followers of imposters and scammers in a tweet.
Twitter introduced verified accounts in 2009 after the company was sued over an impersonation account. When the blue check mark was first made available to paying users in November, the platform was swarmed with users posing as public figures such as LeBron James and George W. Bush.
Only 475,000, or 0.2% of Twitter's daily active users, are paying subscribers, according to one researcher's estimate, and around half have less than 1,000 followers, Mashable reported.
The company has listed some requirements for Twitter Blue status, such as having "no signs of engaging in platform manipulation and spam" and "no signs of being misleading or deceptive," which includes impersonation. Details on how the company will enforce these requirements have not been released.
Several news organizations, which have become heavy users of the platform in recent years, have also said they will not be paying for the Twitter Blue check mark yet.
The New York Times, the Los Angeles Times, Buzzfeed, Politico, Vox Media and the Washington Post all have said they would not be paying for Twitter verification for their organizations nor for their reporters, with the New York Times adding: "except in rare instances where verified status would be essential for reporting purposes," according to CNN media reporter Oliver Darcy.
Organizations will be charged $1,000 a month to access Twitter Blue as a Verified Organization as well as $50 per affiliate account that can be added for individual users in that organization to be verified.
Twitter will make exceptions for its top 500 advertisers and for the 10,000 most-followed previously verified organizations, according to the New York Times.
Times staff writer Wendy Lee contributed to this report.